Luxury Vinyl Tile for Ezy-Warm Underfloor Heating
Luxury Vinyl Tile (LVT) is a fantastically versatile flooring material. 
Available in tiles and planks, and offering a massive range of options, the product is cleverly produced to look like real stone or wood but with many other practical benefits.
The Ezy-Warm System is compatible with LVT brands, giving you beautiful designer flooring with the added benefit of underfloor heating. 
LVT is available in various formats installed using different methods:
Loose Lay – here the LVT typically incorporates a high friction backing, plus an adhesive tackifier or tape to hold tiles or planks in place.  Quick and easy to install, it's a DIY option that enables easy replacement of individual tiles.  Popular brands include Amtico, Karndean and IVC.
Magnetic Backed – much like a fridge magnet, the LVT has magnetic backing which is attracted to a magnetically-receptive underlay.  Very easy to install and replace for flexible designs and repairs.  Popular brands include Amtico, Karndean and Mabos.
Click – as the name suggests, click LVT has a specially engineered side profile that enables planks to be simply clicked together to create a floating floor.  A downside is that as the planks lock together, individual planks can be difficult to remove for repair.  It can be easy to fit making it a good DIY option, although locking can be problematic on poorer quality products and a perfectly smooth sub-floor is needed.  Popular brands include Amtico, Karndean, Quickstep and Pergo.
Dry-back – also know as glue-down, this typically uses an adhesive to bond the LVT to the sub-floor and is up to 3mm thick.  Good for high traffic areas, but very difficult to remove once installed.  It requires a perfectly smooth subfloor so installation is best left to a professional flooring fitter.  Popular brands include Amtico, Karndean and IVC.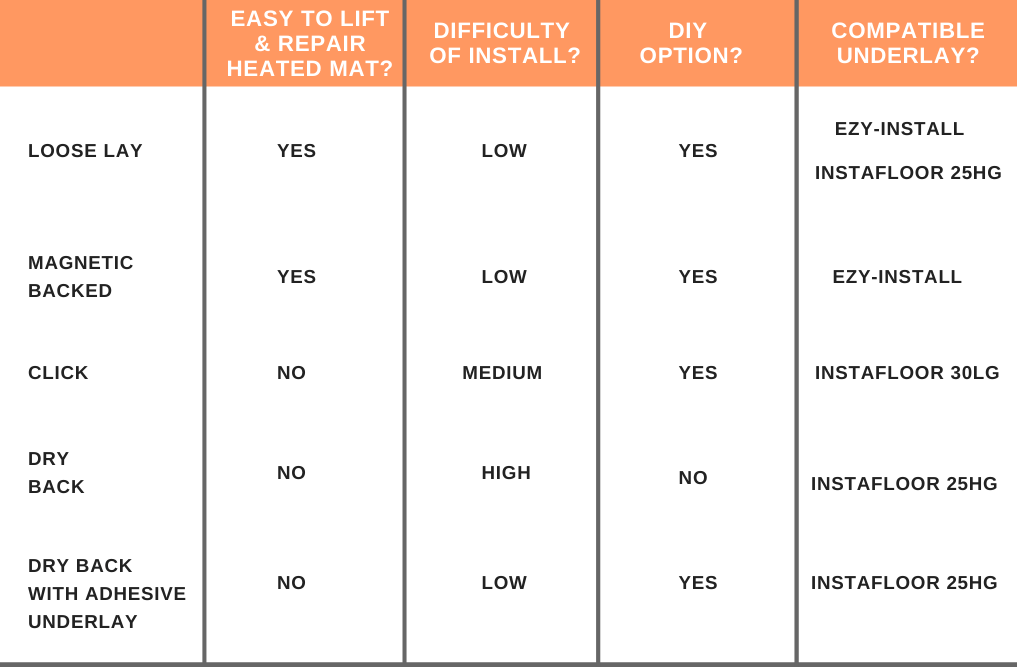 Looselay Luxury Vinyl Tiles available to buy from the Ezy-Warm Shop:
Magnetic Luxury Vinyl Tiles available to buy from the Ezy-Warm Shop:
Gluedown Luxury Vinyl Tiles available to buy from the Ezy-Warm Shop:
Or visit your local flooring retailer and ask for options suitable for underfloor heating